Founder and Master Trainer - Duane Marino
Duane is a trainer with a difference. Still active in the car business, Duane brings a new perspective to sales training that meets today's educated, internet savvy, consumer head on. "The internet has changed the way everyone buys, so logically it should change the way you sell! Some buyers know more than your sales people and most are ready to buy when they hit your dealership. Old school tactics of "Slowing Down the Sale" and "Staying Off Price" will frustrate both the buyer and the sales person and will cost you sales. In particular, employee success and retention can be difficult with sales people as they cannot relate to the old style car dog shenanigans most dealerships and trainers are still advocating.
Read More
To deal with this new reality, Duane is rolling out his fast, revolutionary, and trademarked sales solution called "FLOW Selling". Consider it a "Road To A Sale" and "The Basics" on steroids. FLOW Selling lays out a simple, easy to follow, 4-step template that allows everyone to align with the customer and shorten the sales cycle. "Twice the Sales in Half the Time™" is a motto that is truly proving itself for his outstanding clients. Everyone else is talking about how they have a more engaging, faster sales process, but when you really look at it, all they suggest you do is rush through "The Basics" and speed up the same long "Road To A Sale". That is not a solution. A new sales process is needed from the Meet & Greet to the Close, and FLOW Selling hits the mark for your Sales Professionals, F&I Managers and Service Advisors. They need to all FLOW.
FLOW Selling is an end-to-end solution that acknowledges everyone's role with the customer experience, overall sales and profitability.
Please read ABOUT DUANE for his more complete bio and to better appreciate his approaches.
Kathy Skibinsky (Marino Certified)
Kathy is very proud to have grown up in the car business. She started detailing cars at night and on weekends when she was 8 years old at her parents independent car lot and rental car company in Saskatchewan.
In her second year at the University of Regina, with the intention of becoming a teacher, she realized she couldn't shake the automotive bug so her father got her busy in the shop doing detailing, changing oil, rotating tires and much more. It was not long before chatty Kathy started selling cars in her overalls! Her automotive life then grew into purchasing inventory, doing F&I, website management and every odd job in between (accept for accounting, as that was her mom's area of expertise).
Read More
After several years of learning and success her family sold their business, so she started to sell new vehicles and become a Sales Manager by her mid 20's. As a Sales Manager for almost 4 years she changed not only her own quality of life but also the quality of life for her entire sales team. She showed them what she learned from her dad – take care of your customers they will take care of you! Years of studying, learning, training, hard work, working smart and being honest allowed her and her team to excel in both good times and tough times.
Her strong point in management was training her sales staff and interacting with customers. Through training and improving her sales team she realized she still had a passion for teaching and her meetings were more like informative and practical entertainment sessions. Once she found Duane's processes and psychology she was instantly hooked on his training style and delivery and made her entire team "drink the Kool-Aid" as she found his style, language, processes, values, beliefs and much more all gave her team a learnable and repeatable way to sell vehicles and how to live / thrive in this wonderful industry.
With passion and compassion Kathy can hold a board room, a training room and a showroom. Don't miss the chance to catch her live at one of her events!
Lisa Corlazzoli (Marino Certified)
Lisa is truly a wolf in sheep's clothing! Her bubbly personality perfectly accentuates her sharp mind. She entered automotive over a decade ago as an F&I Manager, leaving behind a 25 year banking career. Her strengths are in sales, accounting, lending, special finance subprime, building instant rapport, investment analysis, income properties, real estate and lifestyle optimization! Duane started training Lisa at her dealership and then she attended Duane's F&I FLOW Selling … that was the beginning of her next level.
Read More
Being a master student and practitioner, she and her assistant have been on MarinoTV since it's launch, personally paying for it! Lisa's per car averages and CSI are in the top 1% of the nation. She loves helping others, bringing out their best traits and improving weaknesses. Lisa uses MarinoTV, FLOW Selling, Duane's published books, her industry expertise and personality as the primary tools of development. If you are looking for personal remote coaching by phone, email and video calls to improve your sales, F&I or management skills, Lisa is the best there is!
Marty Saliba (Marino Certified)
We all have a story… my dreams of playing college football were crushed when I incurred a serious knee injury. As a result, I dropped out of school and began my career in the automotive industry. Like most new to the car business I struggled at first but eventually mastered how to stay off price, slow down the sale, focus on features, benefits and product knowledge… but was averaging only 10 cars a month. I was very disillusioned. Everything changed when I met John Kostakos (Duane's promoter). Entering a seminar of over 200 very excited people was a bit intimidating so I decided to sit at the front. Duane was teaching his trademarked concepts of "FLOW Selling". Within the very first hour I knew this was EXACTLY how I needed to start selling vehicles. I went back to the dealership and sold 7 vehicles in 3 days! I was hungry for more information.
Read More
Duane invited me to attend his 3-day Sales Champion Training (which I self-funded). It was truly a life changing experience! I put Duane's processes into action and the results were incredible. My sales instantly catapulted from 10 cars a month to 25-40 cars a month, with my best month closing at 52 cars (pretty cool when you are only 24 years old)! I would sit in the showroom and watch as others lost sale after sale, giving up unnecessary gross by working the old "Road To A Sale" and "The Basics" while I was posting record month after record month. The dealership next door did take notice of my performance, and asked me to join their team as a Sales Manager. It quickly became apparent that this new store lacked training and process. With the help of my GSM, we immediately ceased all advertising and diverted this budget into training, sending the entire team to Duane Marino. By building the skills of our team, we increased sales from an average of 40 vehicles to consistently over 100-120 within a few months. At one point we were the highest grossing dealership in Canada for the brand. As most of you know, I am proud to say that I am now part of the Marino organization.
Estelle Doiron (Marino Certified)
Estelle was the number one sales consultant in Canada for her brand, as well as an outstanding service advisor. She sets the bar for all automotive professionals and is an inspiration to the growing number of women in our industry. Based on the East Coast, she is fully bi-lingual. Her success, enthusiasm, straight forward and tough-yet-sweet approach sets her apart in the business, sales and training arenas. She has a diverse personal and professional background, heading up her local Rotary chapter, an accredited fitness trainer, certified flight attendant, finance / bank manager as well as a facilitator for her local college's sales and marketing programs. Her reputation and skills are second to none and anyone lucky enough to be trained and coached by her never forgets their experience.
J.C. Spearry - Master Trainer (Marino Certified)
Based out of Cleveland, Ohio, J.C. is well seasoned having been influential in the success of several franchises including Chevrolet, Mercedes Benz, Infinity, Toyota, Volkswagen, Subaru, Jaguar, BMW, Hyundai, Mitsubishi, Ford, Chrysler, Dodge, Jeep (even Plymouth!), and several used car operations.
J.C. entered the automotive industry in 1994. He has rotated tires, changed oil, detailed cars, sold cars, managed inventory, positioned himself as a closer, negotiated with lenders, excelled in F&I, and new and pre-loved car management. J.C. still sells cars today, does F&I and sales management, so you won't be learning what "used to work" but will be mastering what "does work" from a master sales professional.
Read More
J.C. found his passion in 1989 helping others succeed when he entered the United States military. This is where he established the skill sets to effectively provide the purpose, motivation, and direction to accomplish complicated tasks. He graduated in the top 3% of his national, ROTC training class.
J.C. is a trainer with an open mind that believes in attending training of all types and has an extensive education in practical psychology. He is effective in several disciplines related to body language, performance psychology, sales language, time management, goal setting, sales psychology and creating the conditions by which consumers convince themselves to buy.
An incredible motivator, educator and problem solver, J.C.'s pleasantly-persuasive personality makes him a powerful Finance & Insurance Specialist, FLOW Seller, Closer, Team Leader and Mentor.
Mirella Zanatta - Image Consultant (Marino Certified)
Don't judge a book by it's cover, right? Sounds good in theory, but in the real world, your customers are judging you and your entire team as soon as they look at you! Could your personal presentation make or break a sale?
With some customers the answer is yes it can, and does. Why lose business to something as easy to fix as your perceived image. You can over dress, or under dress for our business, and what you need to portray to your market place depends on your business philosophy and brand. And there are some things that are non-negotiable.
Read More
Mirella brings a unique perspective to our team and to your dealership and has a significant level of expertise as a Professional Presence Specialist.
Mirella serves an international clientele in management, sales, to entry level and high executives. As a university graduate with a degree in Psychology, Mathematics and Education, Mirella was a secondary school teacher and guidance counselor for 15-years prior to joining the corporate world. As a multi-faceted educator, Mirella has a proven track record for both discovering and igniting hidden potential across a diverse range of people from gifted students to aspiring leaders. She is also an in-demand speaker, co-author of the book "Make Your Connections Count" and has contributed articles to numerous publications.
Mirella is a member of the prestigious Association of Image Consultants International (AICI) and one of only 13 Canadians to have reached the designation of CIP (Certified Image Professional). She received the AICI Canada Member of the Year award in 2011. Her credentials reflect her extensive knowledge, communication skills, and accomplished training techniques making her an in-demand facilitator. Her energy, enthusiasm and ease of communication are synonymous with Presence. "I know success is the result of a determined mind-set – the desire to excel beyond the status quo."
Bringing Mirella in to work with your team could be one of those little differences that make the big differences for your results!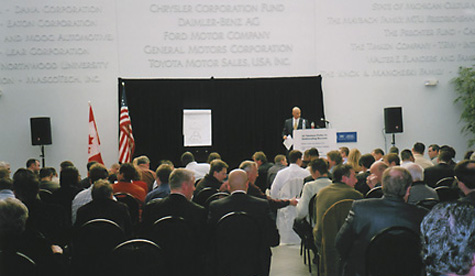 The mission statement of the company is reflective of both the personal and professional values of our team. Simply:
We have a passion for helping people and maximizing potential. We must all identify and strive for continuous improvement. Honest reflection while moving towards new goals; not letting fear, bad habits or complacency slow progress.
We always leave everything and everyone better than when we found them. By definition, we must all make contact with others during the regular course of life and business – in this small world, every point of contact must have a straight intention with conclusions as positive as possible.
We must be careful not to let strengths become weaknesses. Often, the same qualities that contribute to initial greatness are the same qualities that lead to eventual failure. Self-awareness is everything.